Lee el relato anterior en
Última actualización / Last update: April 14th, 2019
In 90 % of cases, the first thing someone replies when you tell him you're going to spend the next 45 days of your life in Iran is something like:
Iran!? What did you lose over there? Do you know how dangerous it is!?
If you are used to travelling you will know that this type of comments you receive very often with very diverse destinations, however, with Iran (and with our next destination, Pakistan) was the vast majority of cases. As usual, you won't be able to avoid feeling certain doubts, as much as you try to avoid them they will be there from time to time… and all that is accentuated by the time you get on the plane.
Teheran day 1
We were tired, 4 hours of a plane from Barcelona to Istanbul, 4 hours of stopover and 3 more hours from Istambul to Tehran. We would arrive at 3 in the morning to a country with all our fears. We don't speak the language, we don't even understand their alphabet, we had no are idea what to do or where to go.
The first thing that surprised us was the women of the plane's line. only one of them was covered, Jesper wondered what happens when they arrive? The answer we had at the time when the pilot lit the lights of the belts to land, each and everyone took their scarves and began to cover. Sara was sitting by our side, I hadn't talked to her but she smiled at me with curiosity since we went up, I forgot to carry the scarf on the plane when landing I asked if it would be ok to cover up with the hood of my hoodie, at least until we could pick up our suitcase. With a broken English she said yes and told me she hated it and finally, we broke the barrier of silence.
Sara has been living in Bologna for the past 8 years and she is married to an Italian. It has been more than 3 years since she was back in Iran. She told me that it was hard to come back with everything she has nowadays. Sara studied makeup for theatre and hopes to have a child when she finds work, she told me all this with a huge smile while welcoming me to that country I had so many contradictory feelings.
Sara's smile dispelled all my doubts, at that time, as I put the hood, just as resigned as she, I remembered why I did what I did, I smiled inside, I squeezed my belt and I prepared for landing. We landed at 3 am in Tehran and we knew Mehregan was waiting out for us. Lucas and Ludmila were at home with Jesper and my parents just a few days ago, and thanks to them we got his contact, from the first moment he was committed to picking us up, we tried to tell him it was not necessary at that time of the morning, but if there is something you need to know about the Iranians is that they are stubborn to die.
We made the visa papers for Iran and an hour later we managed to get out and meet him. he hadn't come alone, Farhad accompanied him and as soon as they saw us out we were invited to a coffee and a coke, we said goodbye to the poles we met on the visa line and jumped into his car on the way to Tehran while the sun was rising.
He took us all over the city, first we went to the Indian Embassy to check the Indian visa procedures, which would be closed until 10 am, then we found a hotel where we left the bags, then took us to breakfast adasi, (a powerful lentil soup ),then took us to his parents home where we were able to sleep for a couple of hours and his mother woke us up with a delicious coulotte to eat. We stayed in his house for a few hours listening to music.
During the afternoon we went to visit the park, we made a technical stop at the hotel, he picked us back together with another friend, helped us buy an internet card, took us to the terrace of Tehran to enjoy some great views of the city at sunset and then went back to his house where we met his father and ate like kings. Finally, at midnight, he left us again at the hotel, 21 hours of Iranian intensity.
They refused to let us pay absolutely nothing, I really swear we tried but there was no human way. Thanks to Mehreganwe solved the problems of a week in less than a day in great company and honestly, any fear we could had was suddenly absurd.
Tehran day 2
We slept like kids the first night after an intense but fruitful day. We were exhausted, we rested with the idea of leaving Tehran for a couple of days and be back to the city on Sunday to solve the paperwork of the embassies (yes, Sundays are the new Mondays). We left the hostel at 2 pm and loaded to the top we headed to the bus station. On the subway, a boy approached us, and without even English told us he was going down at the station, but first, he would take us to see the Azadi tower (we did not understand this fully).
So we trusted him and we got out of the subway half a minute later, suddenly we were inside a taxi that he had already paid in a direction we did not know. I started to stress a little, lack of communication and not wanting to hurt his feelings had put us in a taxi in an unknown direction. But again I was wrong, about 3 minutes later we were at the foot of the tower and about 10 minutes later he accompanied us to the station and helped us find the bus in the direction we needed. He bought us a couple of roses (yes, seriously) and he said goodbye.
These crazy Iranians…
At the station we were not lucky, it turned out that the road was closed because it was Friday (Fridays are the new Sundays) and we couldn't take a bus until the next day. We were the main attraction of the place for about 30 minutes and with everyone wanting to help, the thing got out of hand.
We decided to then go back to the city centre, this time to a new hotel, we left our things and walked around in search of food to cook. On A 15-minute journey, we greeted with 10 people, a guy helped us in a store and Hamid, the owner of an adorable vegetable shop invited us to nuts, an orange, an apple and enough tea to kill a human.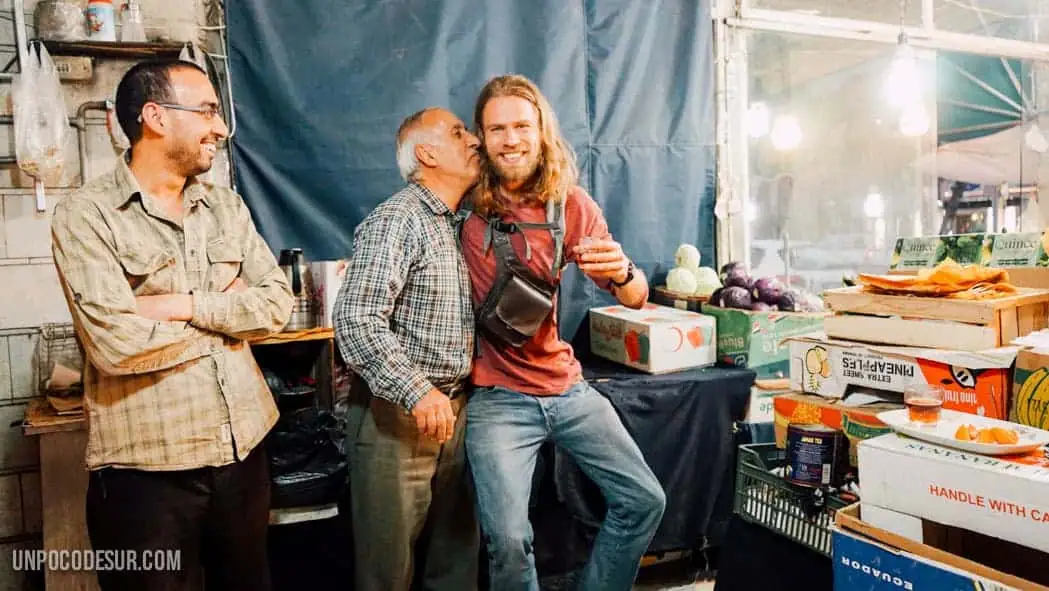 Now the fear we have is not to be able to stop them, they are stubborn, it is impossible to say no and I swear that we try, that yes, the rest of fears are just totally gone.
Thanks to Iran and its people for this beautiful welcome.
How useful was this post?
Click on a star to rate it!
Average rating / 5. Vote count:
No votes so far! Be the first to rate this post.
We are sorry that this post was not useful for you!
Let us improve this post!
Thanks for your feedback!