*Si estas interesado en la versión en español de esta entrada puedes encontrarla aquí: Como llegar a Machu picchu por menos de 15 dólares 
I'll describe step by step how to reach Machu picchu for less than 15 dolars. This way is valid for anyone with a little bit of time. you don't need to be fit for it (just for the very last step) and I'm pretty sure you will enjoy twice or more the way. So, lets start!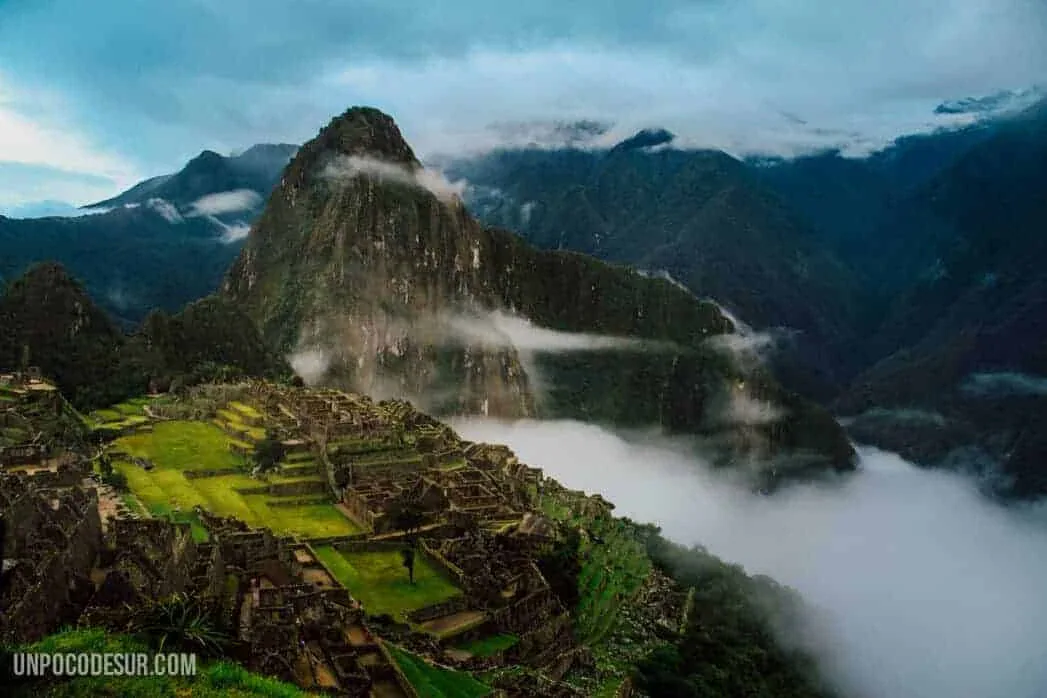 Cheapest way to reach Machu picchu
1- Buy the ticket:
There are 3 different kind of tickets :
Just Machu Picchu: The price is 128 soles (48 dollars) per person for foreigners, you have to know there is a discount for the Andina Community members (Ecuador, Peru and Colombia).
Machu Picchu and Mountain: This ticket includes the entry to the Mountain. The price is 142 soles (53 dollars) per person.
Machu Picchu and Huayna Picchu: This ticket includes the entry to Huayna Picchu mountain, as the second mentioned ticket this one requieres to be in good shape since there is a important way up (nothing especial tho). You can take as much time as you need to do the way up but the entry is only available during two hours, one ticket will allow you to get in from 7 am to 8 am and the other one will allow you to get in from 10 am to 11 am. The second one gets sold out easily. The prices are 152 soles (57 dollars) per person.
All the tickets are available on the Official web page, -usually it gives some roblems to pay with card- if you don't manage to buy it online you can also buy your ticket in Cuzco. On the "Avenida de la Cultura" there is a narrow street that turns right and then turn left, just a few doors away from the main street you will find a small cue and the "Instituto de Cultura" if you get lost just ask to any policeman, it's a well known place.
Don`
If you are a student this is also the only place you can get a discount with your ISIC card (or if you are younger than 18 y.o).
Bring your passport (and carry it till Machu picchu) they'll check it loads of times before let you go in.
2 – How to get there:
Once you bought your ticket what most of the people does is get a train ticket. Well, let me tell you is an insane amount of money and, the train company is not even a peruvian one, so you are giving away your money to someone else but not local communities. The price for the train ticket is close to 136 dollars return per person and if you are still interested on it you can have loads of information in the official page: http://www.trenesamachupicchu.com/
For the rest of the people who can't or don't want to spend 136 dollars in a train ticket you still have a way to get Machu picchu despite what most of people will tell you. You wont find this route described in many places and many people will try to "warn" you about it, trust me, there is nothing to be afraid of, it won't be super easy and it will take you more than one day, but is worth it, so calculate your time and check your options.
The first thing you need to do is find a Colectivo that bring you to the Bus terminal Quillabamba located in Antonio Lorena street. You can ask any colectivo driver and they will tell you which one is the right one. If you are not in the adventure mood then just take a taxi. (the colectivo will cost you 1 or 2 soles and stop infront of the door).
Please don't listen to the people who says the area sorrounding the Bus station is "dangerous". It is not. We had a lovely almuerzo there and walked around the streets, never nothing bad happened or made us feel unsafe.
Once there you need to buy a ticket to Santa Maria. They will ask you for 15 soles (you can't bargain) and there are a few buses during the day, make sure you take an early one. The trip takes around 5 hours (for us was about 7) so I will suggest to take the first bus in the morning (around 9-10 am)
Once you get Santa Maria the next step is to reach Santa Teresa. To do that there are no formal buses, just vans and shared taxis that will charge you 10 soles per person and will leave only when they are full, this is easy in peak season and could take about 2 hours in low season. The journey takes about 40 minutes and the path is beautiful as they drive following the Urabamba river. Is a non pavement road so please relax and enjoy.
In Santa Teresa you will have some options to sleep, the truth is that the "alternative route" is not as alternative as it sounds and many, many people do it along the year (even if you barely can find information about it) In Santa Teresa you can find places to sleep from 15-20 soles (low season) or just keep on your way.
Please keep in mind that after this stop you will have to walk so the best thing you can do is leave most of your stuff either in Cuzco or Santa Teresa and just take what you think is necessary. For the campers: you can take your tent, there is a place arriving to Aguascalientes where you can camp for less than 7 soles per person. We made a mistake and we didn't took ours, thankfully we where quite lucky to find a place for 30 soles each, it wasn't easy so I guess it will be impossible on high season….
Now… Lasts steps, following the train tracks…